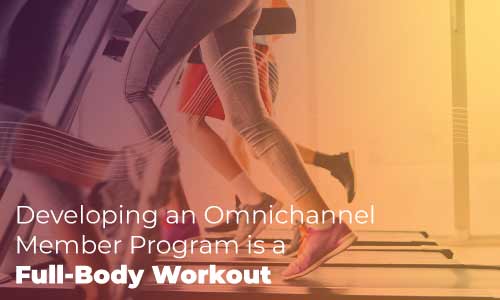 Has the role of technology changed, or just been accelerated? There's been plenty of discussion on the increasing role of technology during the pandemic. Many brands have been applauded for their ability to quickly implement solutions that serve their customers and offer extended value.
But I've struggled with this narrative. Often these stories are positioned as 'innovations' when in reality the technology existed for a long time and the brand's use of it was catalyzed by the pandemic. Or better yet, the brand used the technology all along but now it's viewed as a competitive differentiator. Look at Domino's PULSE system. They invested in that technology to improve the customer experience and streamline their supply chain back in 2001. Domino's continued to invest in enhancing the solution as the expectations around customer experience evolved.

One term tossed around a lot is 'omnichannel'. Fitness studios are recognizing the need to present whenever their members want, on whatever channel those members prefer. This further complicates the need to create and send highly personalized communications across all channels and target and segment dynamically according to the audience. Studios must understand how to use social, profile and website data to trigger automated communications for immediate engagement with potential as well as existing members. Businesses must design and deliver 1:1 communications in order to effectively engage potential customers.

Innovation or Evolution?
When we look at the fitness industry we see a similar trend. Websites and email tools, reservation systems and mobile POS solutions, and SMS and mobile app channels have been around for many years. When studios were impacted by the pandemic, businesses with those tools already in place found themselves in an envied position, while others quickly implemented the systems required for improved engagement. It was also exciting to see studios identify new uses for these tools in order to manage capacity restrictions and contact tracing.

If we dive deeper into the fitness studio industry we see these same trends play out across marketing and communications. Many studios have extended the use of mobile apps, email marketing, SMS, and virtual fitness class systems. Staff can communicate with current and prospective members utilizing digital body language to ensure the context of the communications match the recipients' state of mind. With tools like email marketing and SMS, virtual communication can be more frequent, consistent, and relevant. These same tools can also be used for communicating among staff. Studios can also ensure that all staff are clear on procedures and adjusted operations by sending push notifications through the studio's app, as well as email and SMS.

Communicating to Scale
As the return to studios continues to surge, businesses recognize the need to scale their communications in order to retain their members, as well as win new ones, in this highly competitive fitness market. Communication management must extend beyond the four walls of the club. Automated communication tools allow studios to send reopening email marketing campaigns to introduce members to new class procedures, and updated waivers, as well as automate things they never expected in order to target member and prospect communications. Studio mobile apps can also send push notifications with class offerings and availability and new safety measures. For those members who prefer SMS communications, studios can enable texting from an existing business phone number, or send and receive texts on computers or mobile devices. It's a powerful way to build member engagement, encouraging members after workouts and reconnecting with at-risk members that aren't entering the club regularly.

Member Experience has Become a Team Sport
Because many studios have had to scale back staffing, internal automation is essential to day-to-day operations. Omnichannel technology streamlines operations while also developing strong member relationships and loyalty with tools like controlled freezing and unfreezing of member accounts. With the self-check-in tool available via a web browser or mobile app, studios can flex their staff where they are needed most, while also providing members safe contactless class check-in. Utilizing contract and agreement tools, studios can easily adjust, send, and accept waiver policies with updated health and safety protocols and requirements around local and state requirements as well as their studio's updated policies.

A member-first mindset requires an expansion of the member experience to encompass everything the studio does, from hiring and leadership development to marketing, payments and billing, logistics, and IT infrastructure. Gaining this in-depth engagement knowledge about members is possible because technology is allowing clubs to collect Voice of the Member data, and bring out valuable insights from that data with speed and precision.

Omnichannel Requires Hybrid Integration
Hybrid fitness class models will be a competitive advantage for studios moving forward, offering the flexibility of class accessibility with live-streaming classes, or having an instructor teach a handful of people in person, while simultaneously broadcasting that workout to people logged in online. Some studios may also want to provide access to pre-recorded classes that reside on the studio website. Hybrid class offerings are omnichannel experiences personified.

Merging Xs and Os
One additional benefit of omnichannel experiences is that fitness studios are spending as much time examining experience data as they previously did with operational data. Fitness studios have been inundated with data to help them optimize operations. However, this valuable O-data (operational data) is typically fragmented, stored in various systems, and difficult to align into a narrative that informs business decision-making. The Experience Economy is now forcing studios to look beyond the O-data and also evaluate the X-data (experience data). This X-data is providing the insight behind 'why' things happen. Spending on experiences has grown 4X faster than spending on goods and services. As studios have evolved how they operate in the pandemic-clouded experience age, standardization is essential. Top-performing fitness studios are now utilizing reporting and analytics solutions that fully integrate their X- and O-Data, collect information across their studio, and provide best practice methodologies, controls, and tools. By combining X- and O-Data studios are seeing the impact of their improvements on key metrics like revenue, sales, profit, engagement, attrition, and much more.
What's Ahead?
It's evident that technology has accelerated inevitable change. The challenge for studios in 2022 will be to harness that data into learnings that drive decision-making. Fitness studios will need to derive clarity through these continued times of uncertainty, expand business opportunities with hybrid fitness class offerings, scale operations with limited staff, and ever-changing procedures, and strengthen member loyalty with strong communication and member-focused payment practices.

Ready to Scale Your Business? Get a Custom Consultation